I think this is the cutest butterfly origami available right now. I could feature this guy all day, his stuff is soo good!
Here is some paper to print if you want the same colors etc..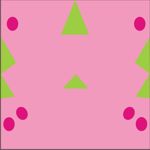 And his Video Too!!!
Hope you like it!
x
The following two tabs change content below.
Hi! I'm Chrissy and I run this website, I'm 28 and I live in Australia, with my husband and daughter. I've been blogging here since 2009 and I try to post about once a week, sometimes more, sometimes less. My day job is graphic designer & web developer. Other things about me: I love sci-fi series and films 👽, vampire themed dramas 👻, Japanese anime, Korean dramas and K-pop. I have 2 pet bunnies 🐰, my favourite food is strawberries 🍓, I'm vegan 💚 and love the beach 🌊. I also love painting with acrylics, needle felting 💕 and crocheting cute amigurumis. 🎨
Latest posts by Chrissy Pk (see all)