Pokemon
Learn how to make this advanced origami pikachu model by Kozasa Keiichi, video tutorial with diagrams to download.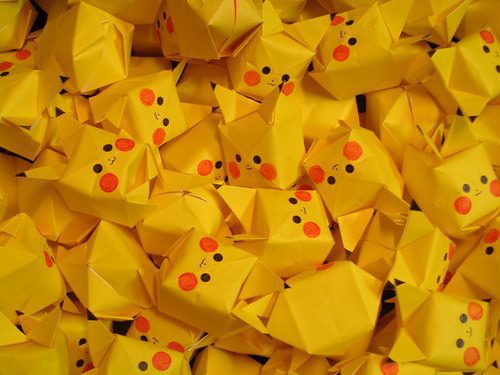 How cute are these???

I don't know who did all those tiny ones, but when I saw this, I wanted to figure out how they did it, its just the water bomb base, with one side unfolded.

Learn how to make these 2 adorable pikachu origami models, download the diagrams here.
Models by Kozasa Keiichi and Robert J. Lang.

UPDATED LINKS This Cute Pokemon "Pikachu" Paper Model from squidoo.com is adorable!!! DOWNLOAD Here's mine, I printed the templates on 2 A4 pieces of yellow card. When I was putting it together, I didn't have a picture of the finished one, so I got some legs in the wrong place, and it was a bit […]