3d model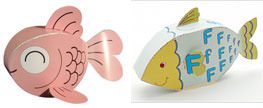 Here you can download the templates for 2 cute papercraft fish!

This Miffy papercraft model is originally from Asahi.com Download Miffy 3D Model PDF Enjoy!…

These are from Studio-Waka.com Aren't they cute!! [box type="download"]Download 3D Rabbits PDF Template[/box] Please let me know how you get on!!! X

Check out these amazing paper models by Warm 'n Fuzzy!

A very Merry Christmas from Relax Bear and the gang (Rilakkuma, Korilakkuma, & Kiiroitori). They're decked out in their winter costumes and ready to have fun!

This is SO Cute!!!! If I had time, I'd totally do this right now..!
But I don't =^-_-^=