Ok, its getting hot here in Oz, so I thought I'd do a post on all the cool ice cream paper crafts I could find!
There aren't many tamagotchi crafts out there on the web…so I made my own!
My favourite easter paper craft tutorials from around the web, cute selection includes adorable carrot boxes, rabbits and ducks!
This super adorable origami basket is perfect for easter, stationary holder or as a doll's bag.
Love Angry Birds? Download these super cool Angry Birds Papercraft models and make your own today!!!
This cool hexagonal origami gift box is a really hard to find, stylish box with a lid, you can download the diagram here…
Kikoo the Kawaii Monkey paper craft model is from kawaiistyle.net.
How to make 12 different types of Origami Hearts!!!
Download diagrams and links to tutorials! Perfect for valentines day!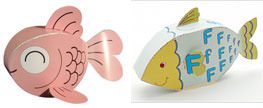 Here you can download the templates for 2 cute papercraft fish!
Learn how to make these 2 adorable pikachu origami models, download the diagrams here.
Models by Kozasa Keiichi and Robert J. Lang.
This Paper Heart Chain tutorial is from Craftzine!!!
Perfect for valentines day and kids parties!