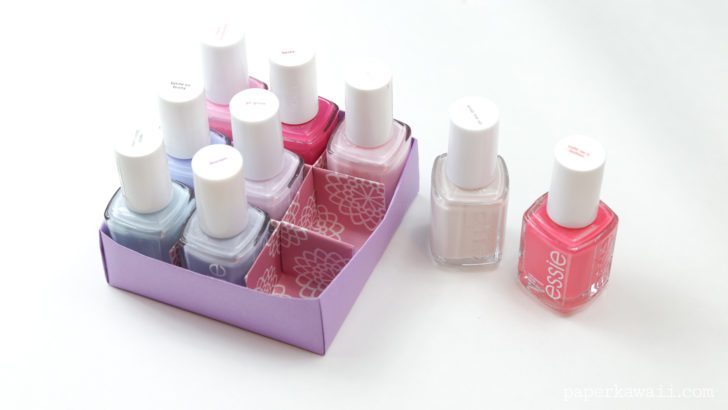 Learn how to make an origami box divider with 9 cube sized sections, great gift box or DIY organiser for small items!
This 9 sectioned origami box divider is deeper than the other one, each section is a cube sized.
I love box dividers and couldn't find any with more than 4 sections. I think you could class this a tessellation, I'm not sure!
This origami divider uses the same method as the Origami 9 Section Divided Box + Lid, with different dimensions.
This divider is simpler than it looks, you pre crease it and then it isn't too tricky to create. This tutorial also shows how to make the masu box to fit 🙂
Designer: PaperKawaii
Level: ★★★☆☆
You will need:
1 sheets of square paper
I used 20 x 20 cm
(nail polish one: 15 cm)
– Ruler + Pencil + Calculator
– Optional Glue
Final Size: 8.5 x 8.5 x 3 cm
Box: 1 sheet of paper the same size, 20 x 20 cm.
Check out my paper recommendations for more information on where I get my paper and also ideas and money saving tips.
To see what I'm up to lately, check out my Instagram, subscribe to my youtube channel or join the mailing list 😀