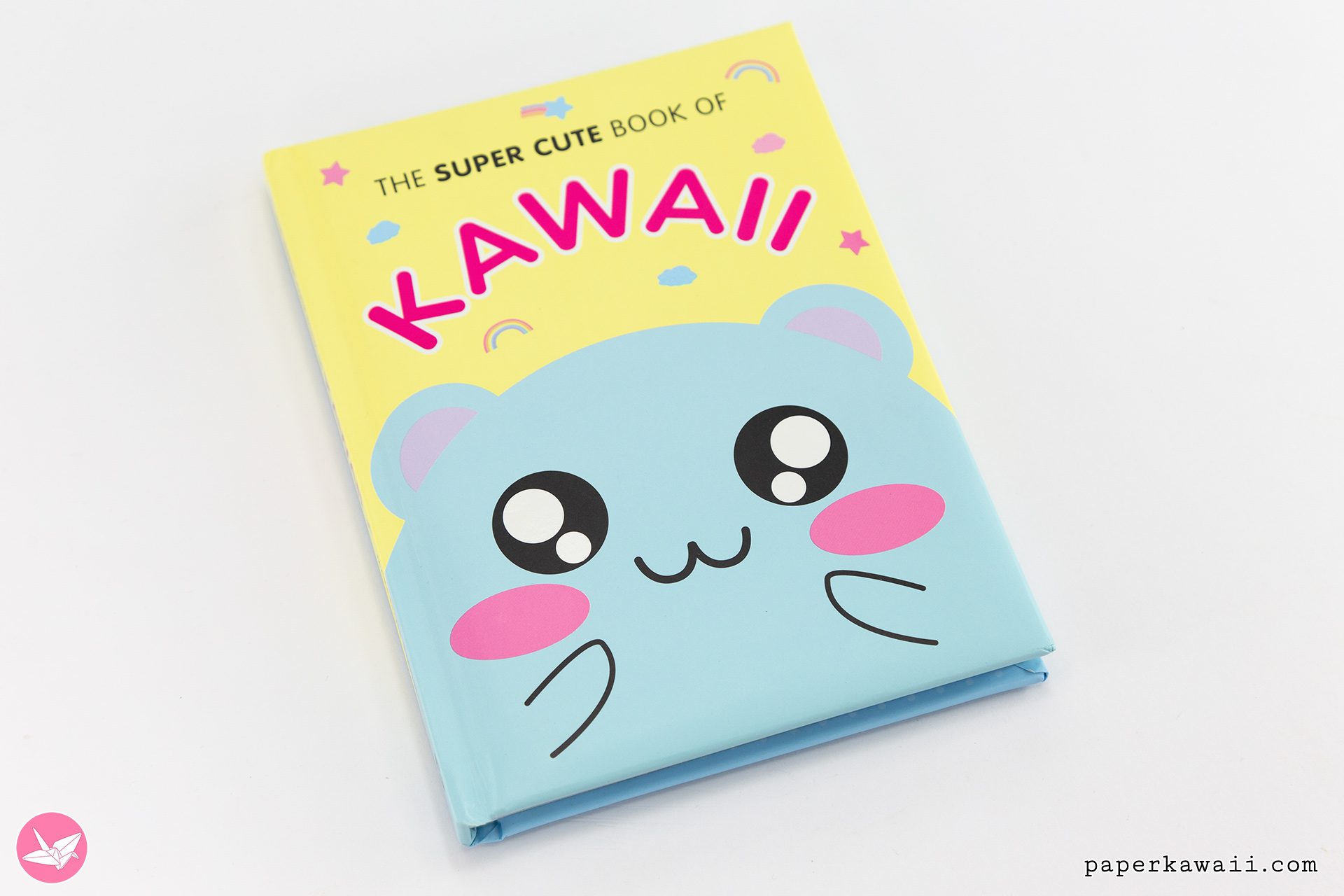 Hello, and welcome to my review of Marceline Smith's "Super Cute Book Of Kawaii". When Marceline contacted me and suggested a review & giveaway "swap" of sorts, I was happy to oblige. The swap being that there would be a review and giveaway of my book, Kawaii Origami, over on her website Super Cute Kawaii, you can view that review here.
A few years ago, Marceline sent me some of her super cute wrapping paper, which was cut into squares for me to use as origami paper, it was so adorable, I wish I still had it.
The Super Cute Book of Kawaii
My first impressions of The Super Cute Book Of Kawaii as I unwrapped it – the cover. It's padded which feels nice, the size is about A5, so it's easy to hold while reading it. The material is matte with glossy embossed graphics. Along with the book I received a pink bookmark with doughnuts and doughnut-shaped animals.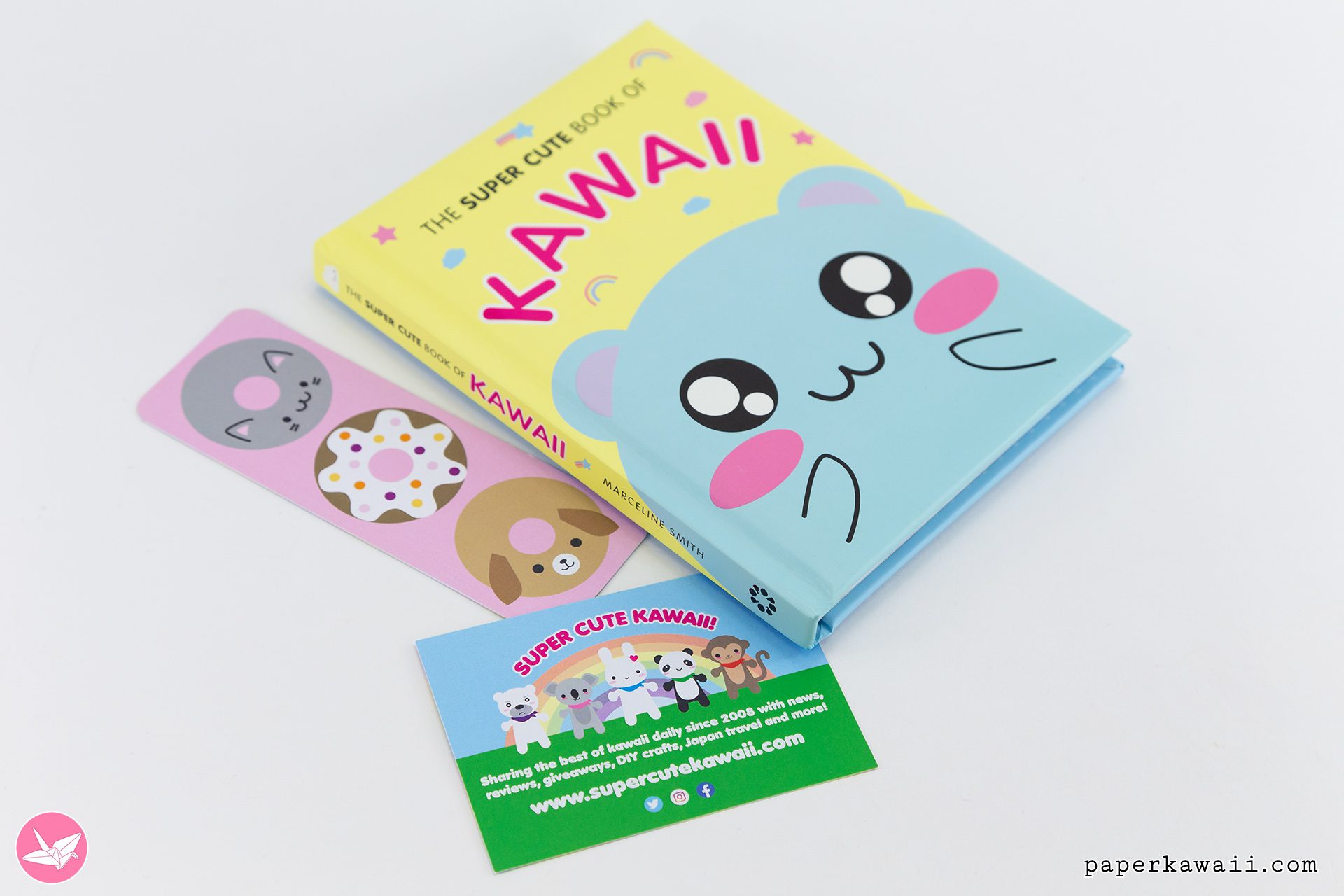 What's in The Super Cute Book Of Kawaii?
This book is about "kawaii" or cute lifestyle. Included in the book is:
An introduction to kawaii and cute characters
Kawaii fashion & beauty inspiration and info
Tokyo shopping guide
Kawaii decor and DIYs
Cute food with recipes
Suggested shops, websites, youtube channels, events & games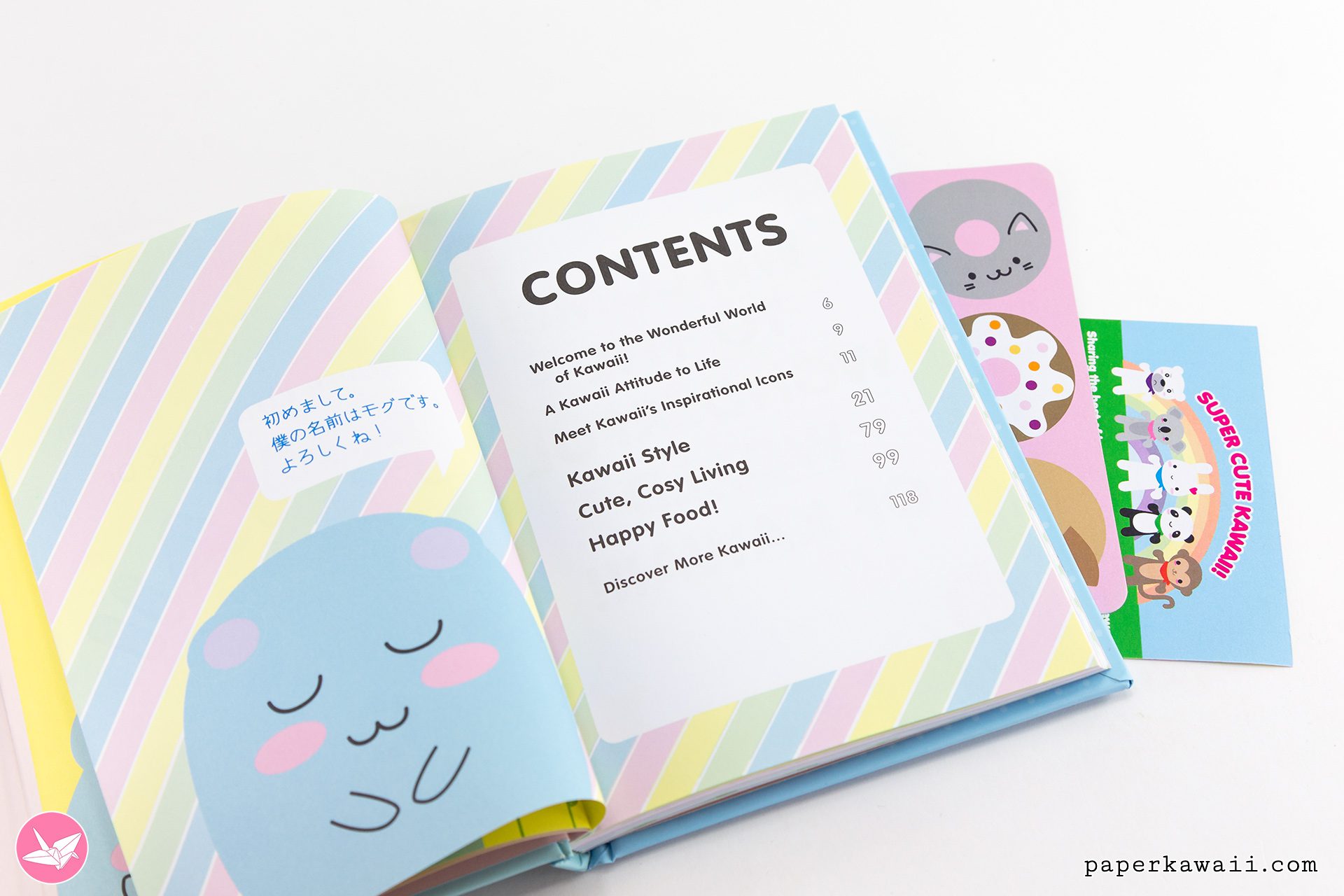 I find the colours and design of the book to be particularly inspiring. Marceline is very talented at kawaii style character designs, which she has created for this book as well as her websites. I'm sure if you're into Kawaii, you'll already know Super Cute Kawaii! Marceline also has a shop, Asking For Trouble; where you can buy stationery, pins, stamps and lots more.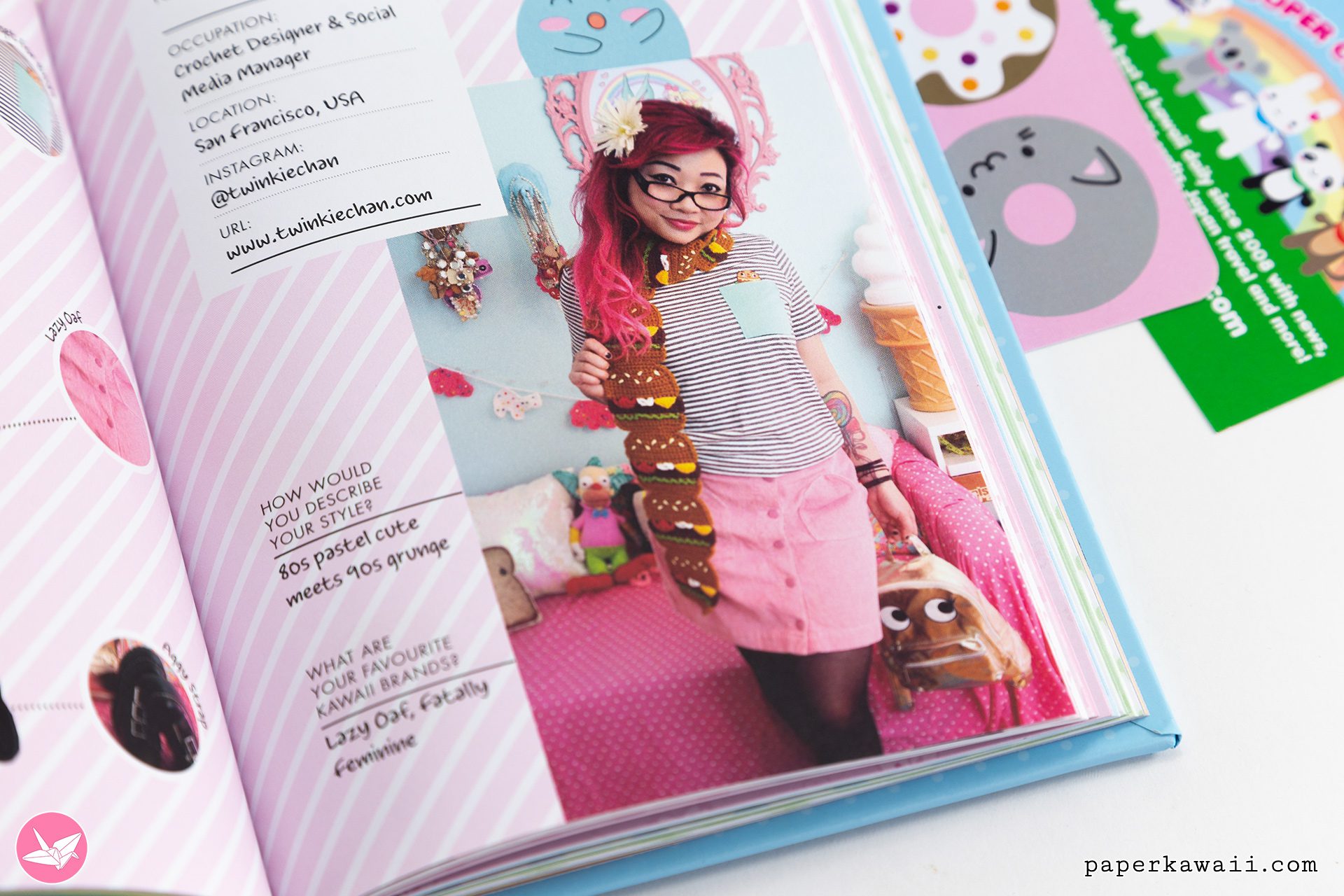 The kawaii style section of the book has pages featuring different kawaii fashion styles as well as insights into the people featured. The styles range from a fun, colourful casual look to super frilly and cutesy pastel styles! If I had to choose one of the outfits featured, the one above appeals to me the most… I have a small black and white stripe obsession.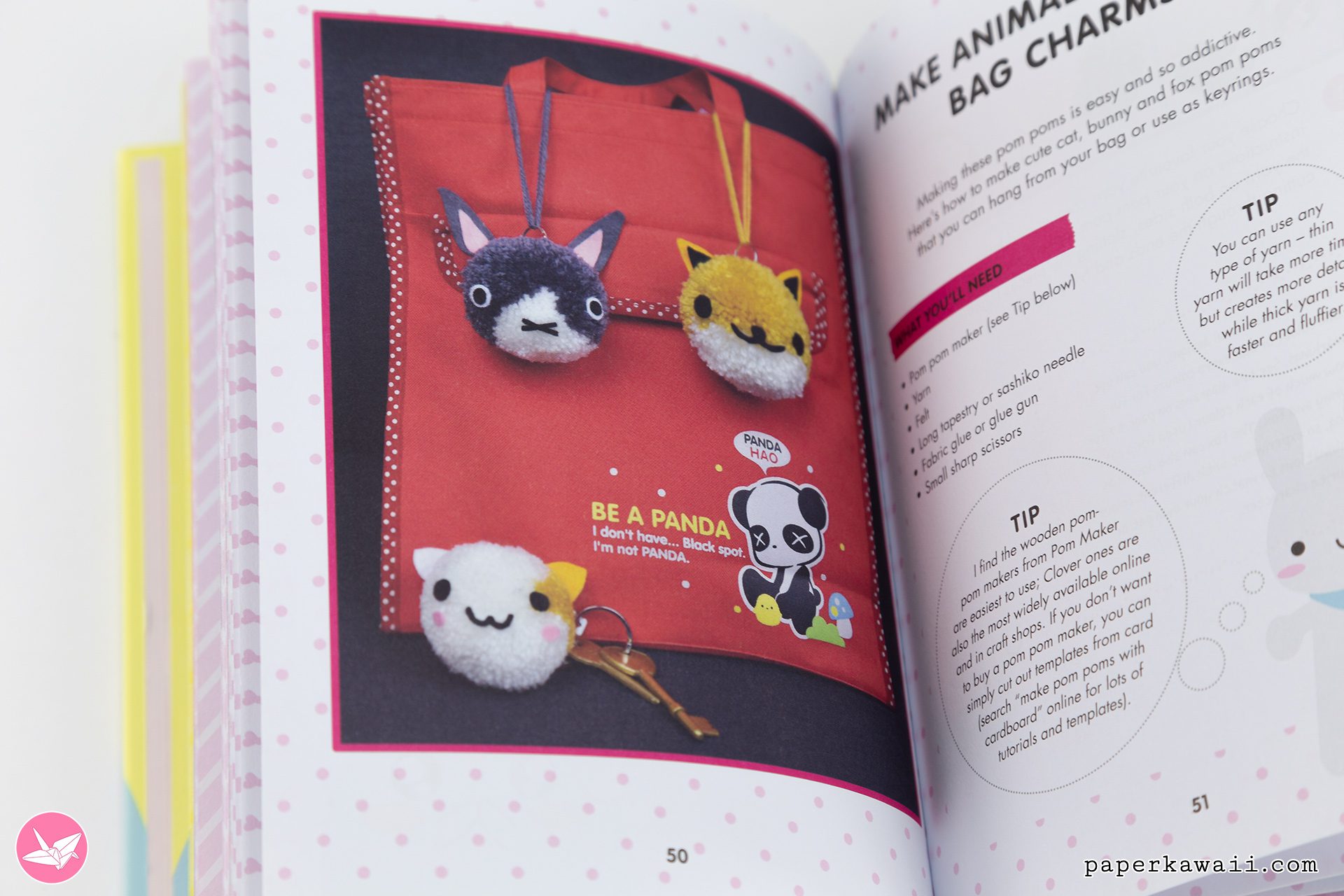 The Super Cute Book Of Kawaii includes some DIY projects including these adorable pom-pom key-rings, how to make a fabric bow, a doughnut paper garland, and a jewellery stand.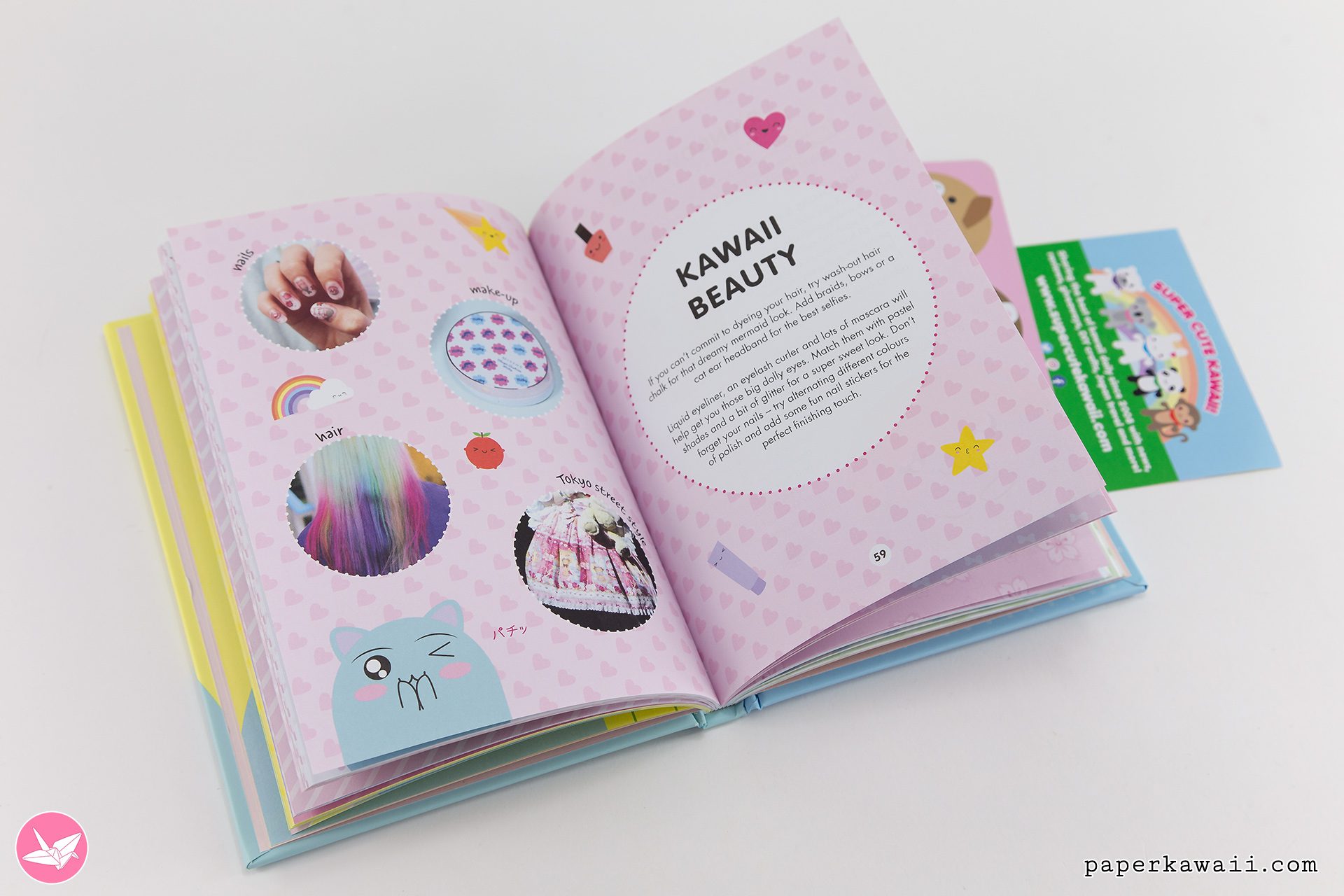 A very appealing topic, the Kawaii Beauty section, with info on hair, makeup and a nail art ideas page. Hmm, should I dye my hair…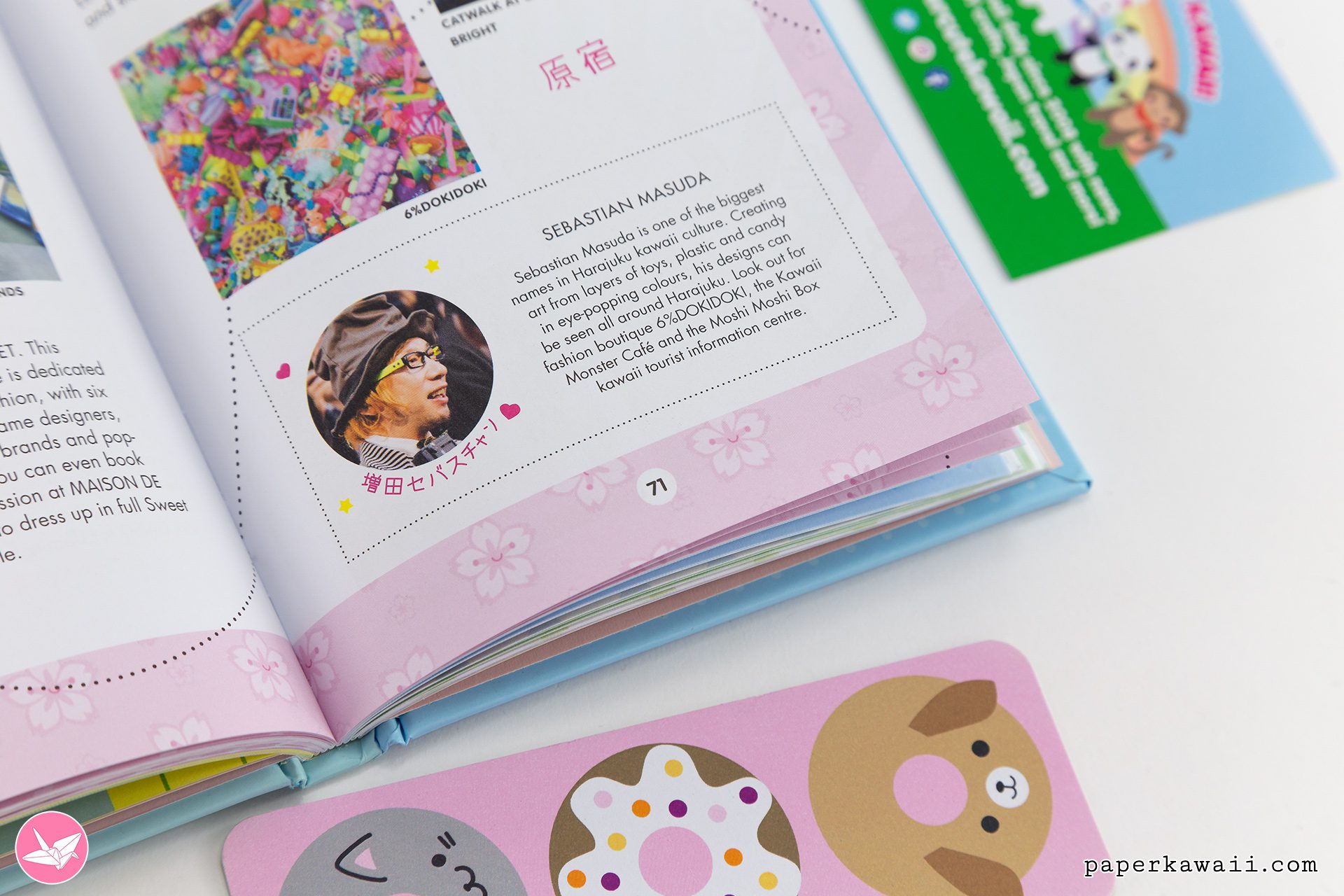 I'm sure many people already know that "Kawaii" means cute in Japanese, so this book has little snippets of info about Japanese kawaii characters, cute places to shop. There are also cafe and restaurant recommendations and where to see all of the kawaii street fashion in Tokyo.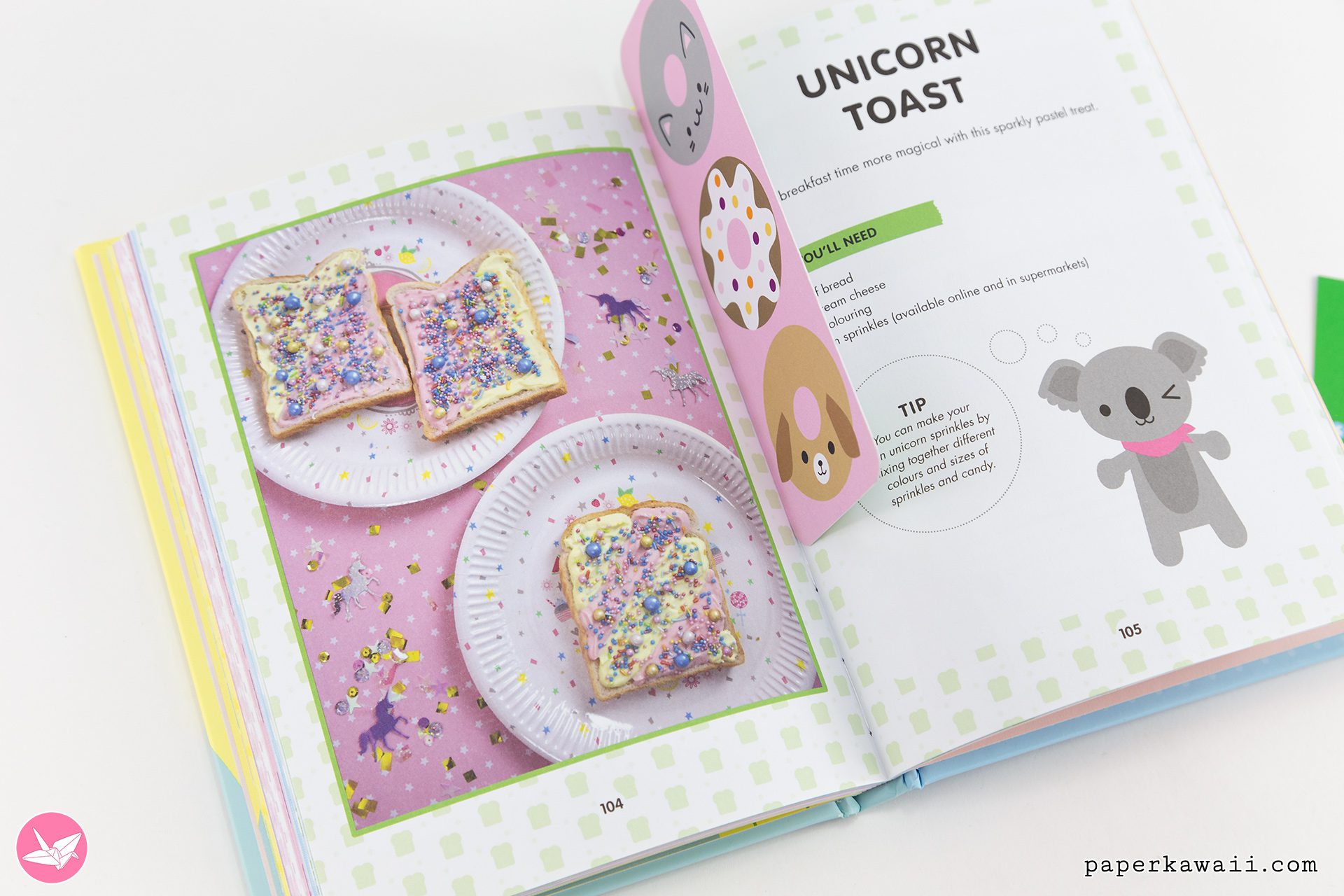 This unicorn toast looks sweet, literally!
The Kawaii lifestyle isn't all about material possessions or looking pretty, even though Kawaii translates as "cute", in Japanese it has a little bit more of a deeper meaning, which stretches into all aspects of life. You can bring more kawaii into your life with your home decor, food and in my opinion: yourself, how you treat others and have a happy outlook on life (when possible).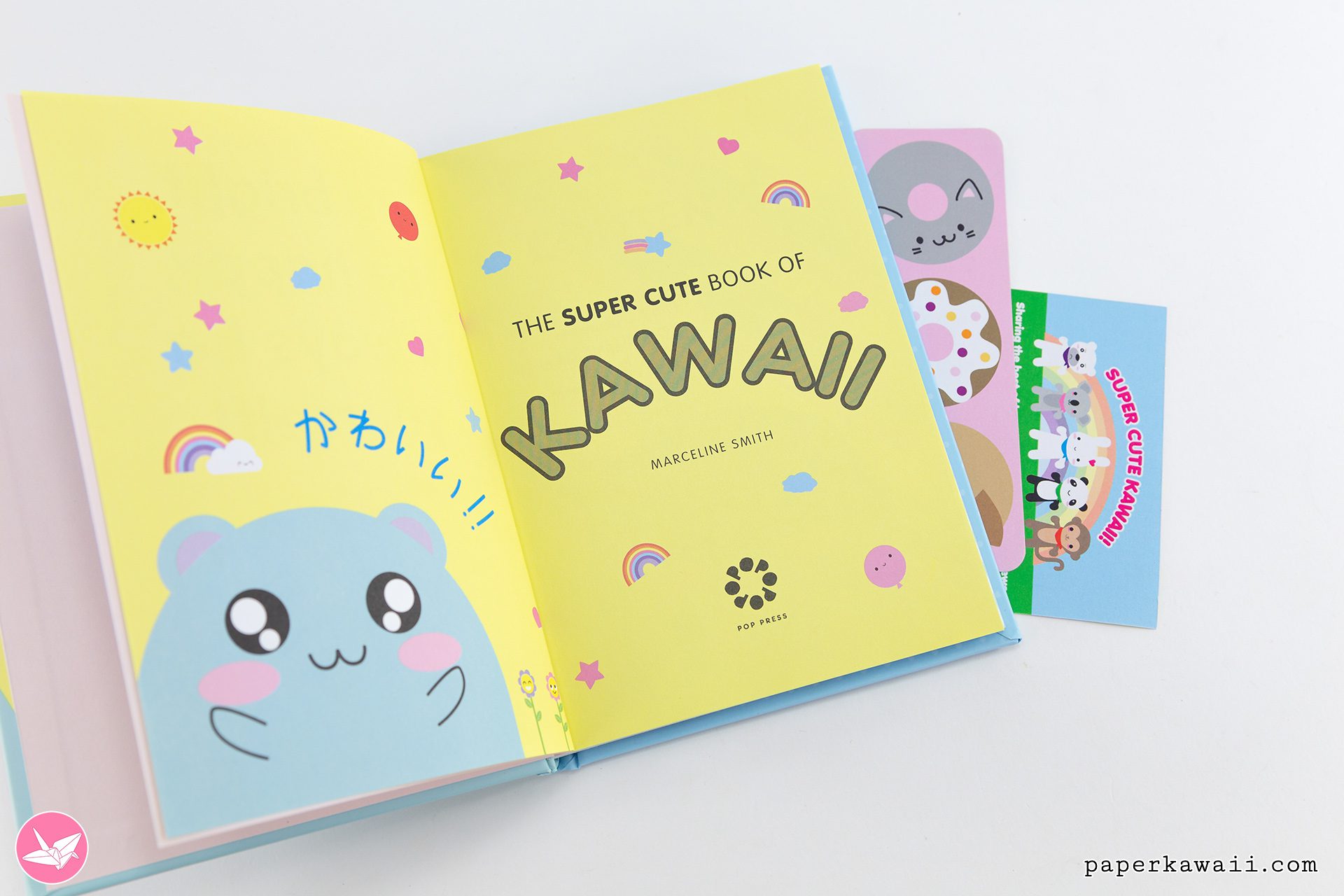 Who is this book for?
I enjoyed reading through this book, I especially find all of the colour pallets, designs and layouts inspiring in a graphic design sense. Personally, it takes me back to when I was a teenager, and I feel like it has reminded me that you can dress in interesting clothes and colours that are unconventional.
The reason I chose the name "Paper Kawaii" for my website, is because of my interest in Kawaii and Japan, and of course, Origami. Anything can be Kawaii after all, if you use the right colours and styles.
I would recommend this book to anyone interested in Kawaii style and Japan. It would especially make a great gift for a teen, and will only inspire them to get out there and try new things and maybe even save up for a trip to Japan.
Where can you get this book?
You can buy this book directly from Marceline's online shop here (it's signed and includes a free bookmark).
Alternatively, it's available at many online shops like Amazon as well as in physical bookstores. An ebook version is also available, but I'd recommend getting the physical book, I mean.. the cover is everything.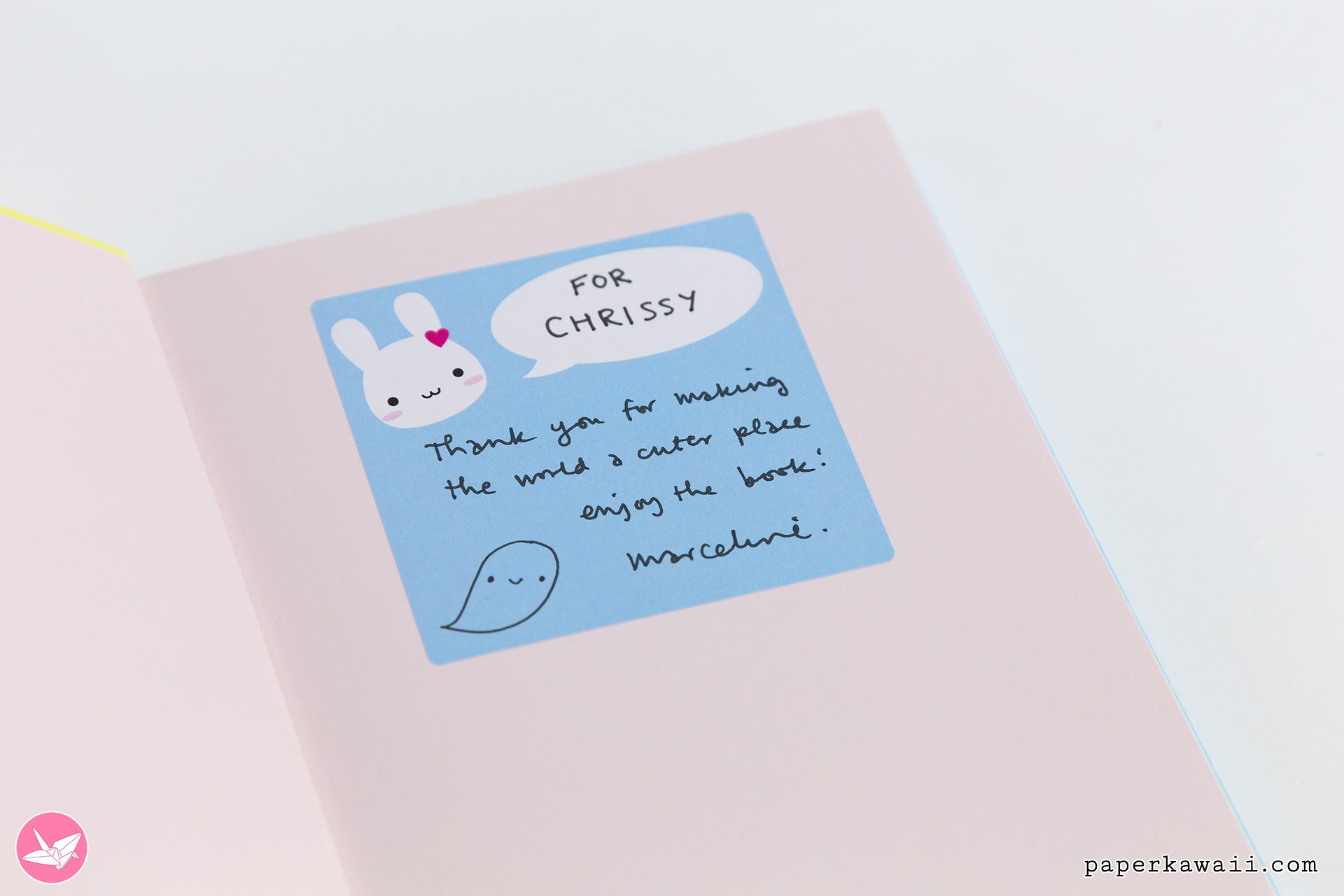 Thanks for the cute note Marceline, and also for listing Paper Kawaii in the Kawaii YouTube channels section!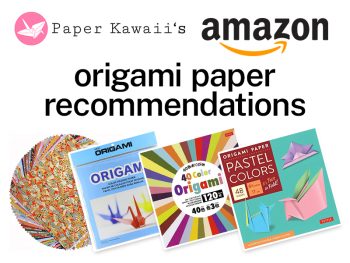 You can check out my personal favourite origami papers, paper craft tools and more on my Amazon.com store.
You might like to check out my origami book: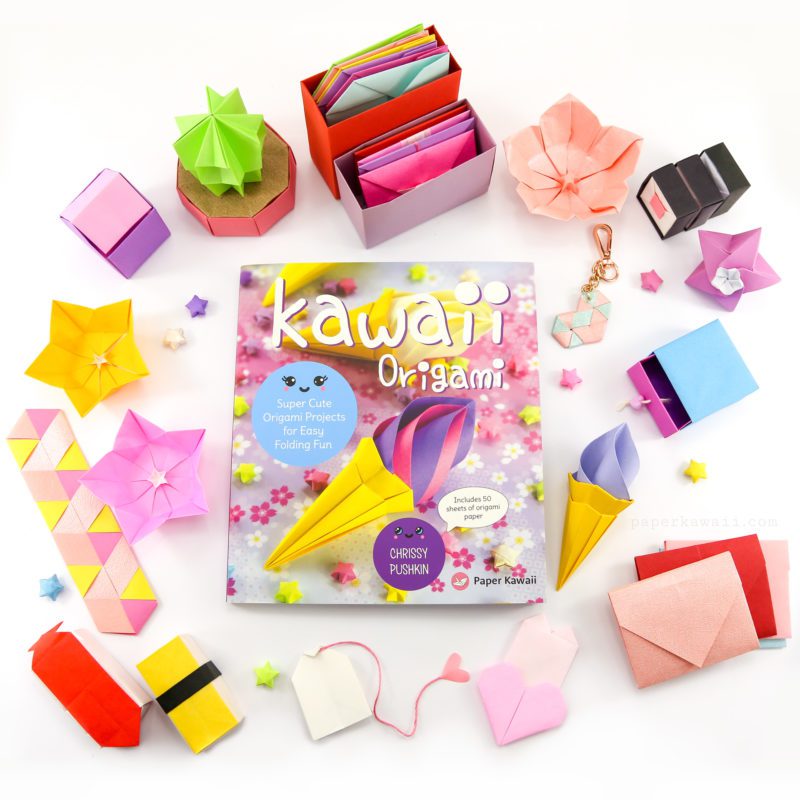 Kawaii Origami – Super Cute Origami Projects for Easy Folding Fun
"Kawaii Origami" includes over 25 cute origami projects ranging from easy to advanced.
Kawaii Origami was published on 2nd April 2019. An ebook version is also available on Amazon.