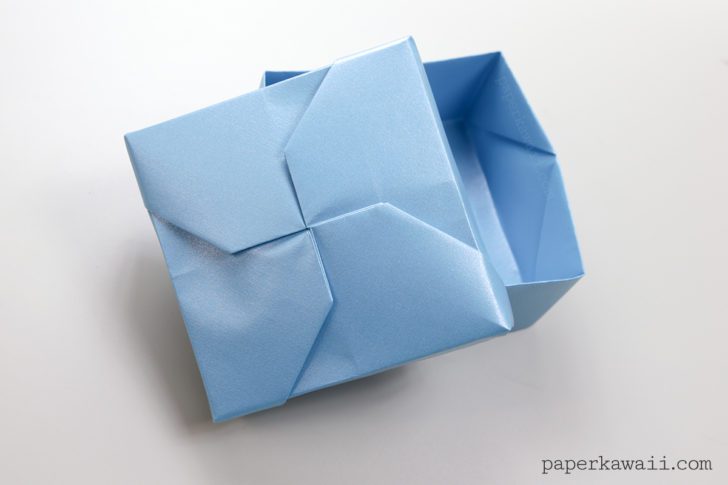 Learn how to make a modular origami masu box with a twisted layered design on the lid. ✪
This lid is kind of experimental – I think there are lots of variations one could do with this box.  The 'twist' looks a bit like pinwheel. 💠
The benefit of having a modular masu box is that the box or lid can be a lot bigger – and more sturdy, which is great for those of use who have limited paper sizes!
If you make one I'd love to know what you think of it, was it hard or easy, why not leave me a quick comment. 😀
Level: ★★★☆☆
You will need:
For the lid: 4 sheets of square paper:
I used: 14.85 x 14.85 cm (half A4 then cut to square)
Final size: 10.5 x 10.5 x 2.5 cm
For paper I would recommend thin but sturdy paper, for the tutorial I am using quite thick pearlised paper, which was hard to work with!
For the lower box: Use A4 paper (29.7 x 21cm) use the origami twisted box tutorial, and don't flatten at the end. Also might want to trim of 1-2mm off the size.
To see what I'm up to lately, check out my Instagram, subscribe to my youtube channel or join the mailing list 😀
The following two tabs change content below.
Hi! I'm Chrissy and I run this website, I'm 28 and I live in Australia, with my husband and daughter. I've been blogging here since 2009 and I try to post about once a week, sometimes more, sometimes less. My day job is graphic designer & web developer. Other things about me: I love sci-fi series and films 👽, vampire themed dramas 👻, Japanese anime, Korean dramas and K-pop. I have 2 pet bunnies 🐰, my favourite food is strawberries 🍓, I'm vegan 💚 and love the beach 🌊. I also love painting with acrylics, needle felting 💕 and crocheting cute amigurumis. 🎨
Latest posts by Chrissy Pk (see all)