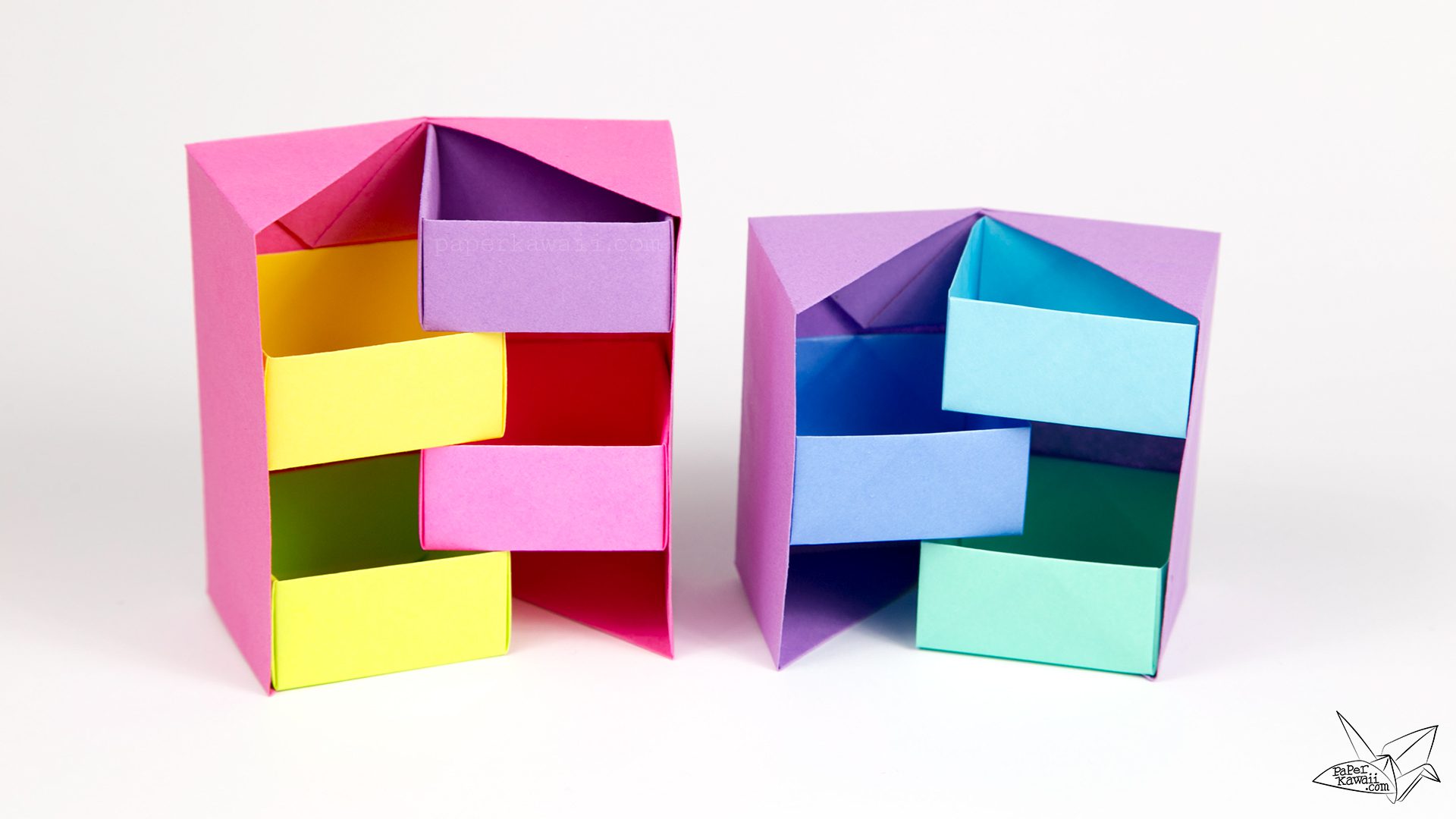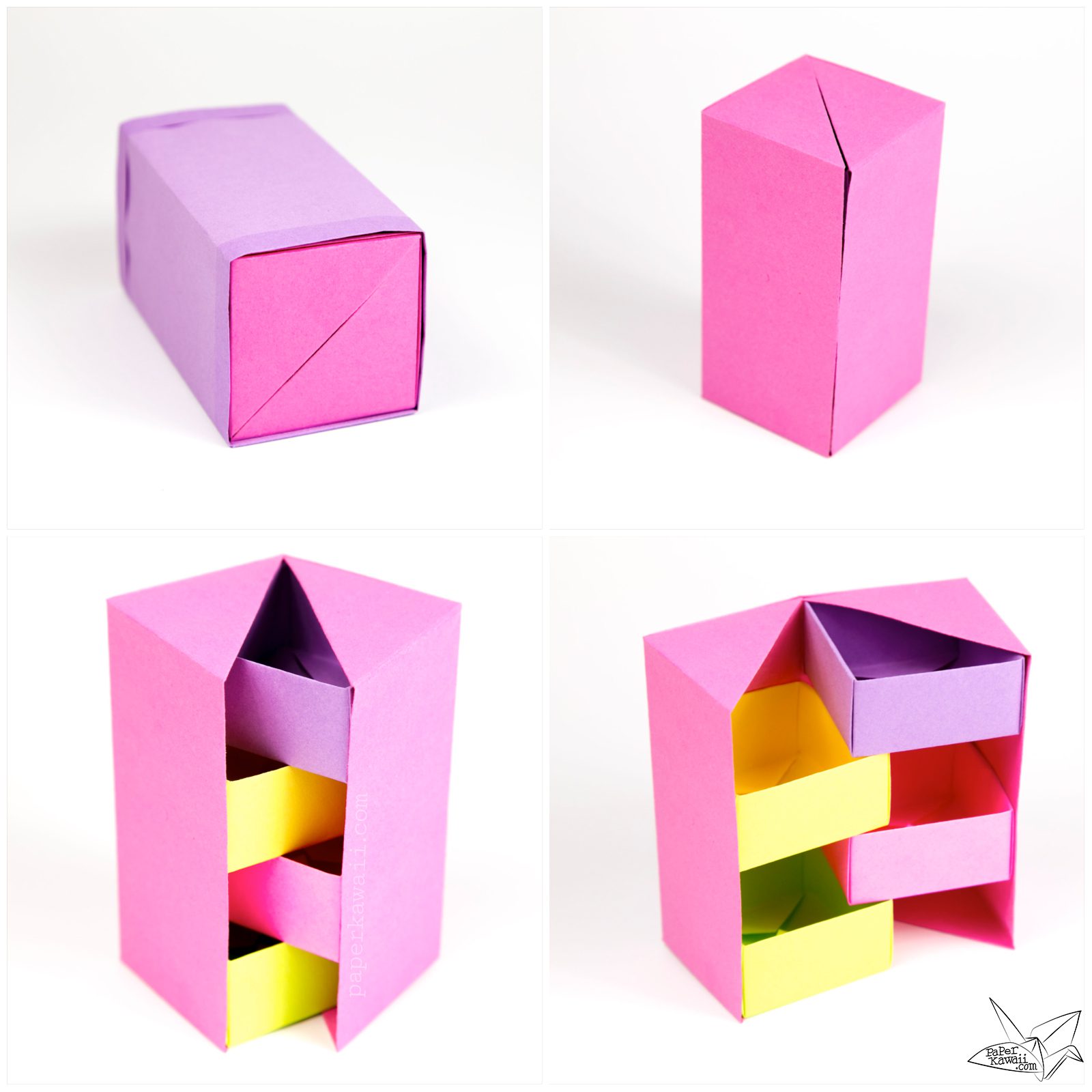 Learn how to make a useful origami stepper box, this origami gift box has 3 – 4 levels and is easy to make. Perfect to store jewellery or give gifts. The way this opens is unique and cool!
This secret stepper box is made by putting together two different origami models. One is a hinge box and the little boxes inside are masu boxes.
Included are two different heights of box, one has three levels and the other has four… you could actually make one with more if you can work that out. You can make a cover for this or use some ribbon or something to secure it. The pink one I made stays shut by itself and doesn't need it. If you want it to do that, you may need to use slightly larger paper for the masu boxes, just 1 or 2 mm more. Or if using textured paper, it will probably stay shut.
A small rant: This origami stepper box became really popular on youtube, which is great but unfortunately a lot of people re-made my tutorial, without giving any information or crediting me for the design. At the time I was quite upset about this and actually asked a few people to add credit, some did and others didn't. Some people actually got angry with me for even suggesting that they needed to. After that a very large channel made a tutorial for this box, and then [5 minute crafts] did one. They refused to even reply to my messages about this. This issue honestly made me question even wanting to continue with Paper Kawaii, as weird as that may sound, it upset me that much. It's 2021 now and I haven't been posting like I used to, this issue still bothers me, even now.
Origami Secret Stepper Box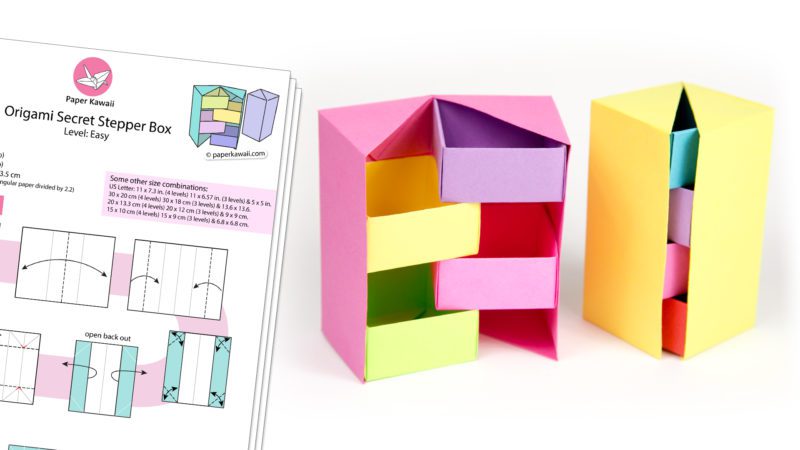 Origami Stepper Box Diagram
This origami diagram is in high quality PDF format.
Design: © Paper Kawaii Copyright Information
Level: ★★☆☆☆
You will need:
▸ 1 sheet of rectangular paper
(4 levels): 29.7 x 19.8 cm
(3 levels): 29.7 x 17.8 cm
▸ 4 sheets of square paper: 13.5 x 13.5 cm
▸ Optional rectangular paper to make a cover
▸ Glue, pencil, ruler
Final model size: 10 x 5 cm
The ratio for the rectangular paper is 2:3 (4 levels) and 3:5 (3 levels). I used A4 paper to start with.
The boxes to fit inside are the width of the rectangular paper divided by 2.2
Some other sizes you can use are:
Cut from US LETTER PAPER: 11 x 7.3 inch (4 levels) 11 x 6.57 inch (3 levels) & 5 x 5 inches for the boxes.
30 x 20 cm (4 levels) 30 x 18 cm (3 levels) & 13.6 x 13.6 for boxes.
20 x 13.3 cm (4 levels) 20 x 12 cm (3 levels) & 9 x 9 cm for boxes.
15 x 10 cm (4 levels) 15 x 9 cm (3 levels) & 6.8 x 6.8 cm boxes.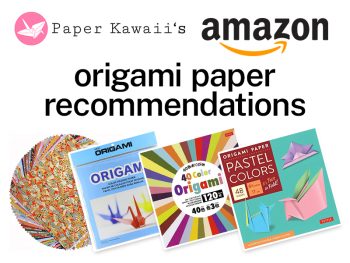 You can check out my personal favourite origami papers, paper craft tools and more on my Amazon.com store.