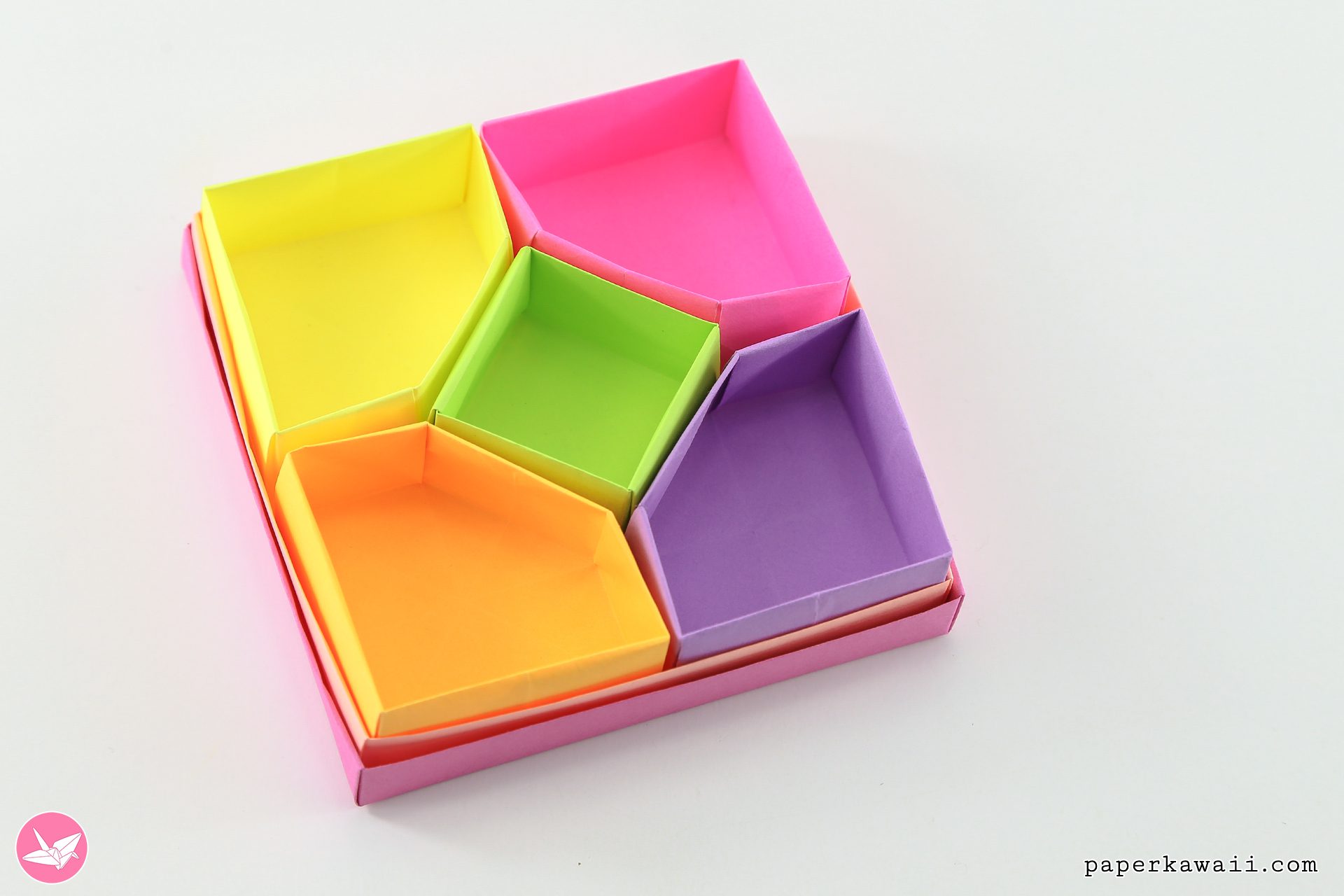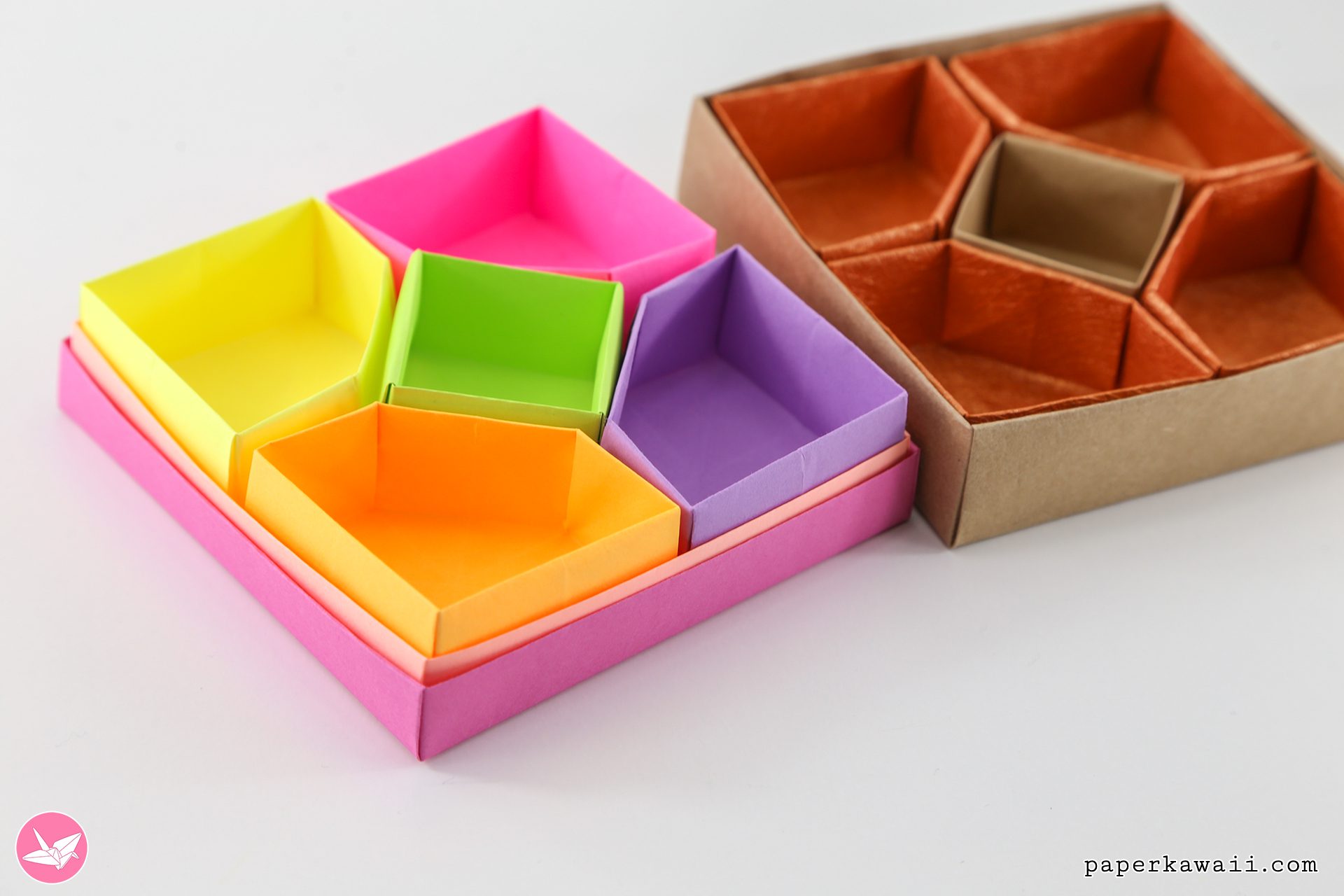 If you're someone who enjoys crafts and wants to add a touch of creativity to your workspace or home, then you might be interested in learning how to make an Origami Diamond Divider Box. This box is a unique origami creation that is not only visually appealing but also highly functional. It is fitted with four gem-shaped boxes on each side and a square in the middle, providing a total of five compartments to help you stay organized.
What's even better is that you won't need any glue to put it together! With just some simple folds and creases, you can make your very own Origami Diamond Divider Box in no time. Not only will this box help you keep your space neat and tidy, but it's also a fun and rewarding project that you can enjoy doing in your spare time. So why not give it a try and see for yourself?
This origami box of boxes includes four diamond shaped boxes inside. These gem shaped boxes are inside-out variations of my previous box "Origami Diamond Box & Lid", back in 2015 (re-make tutorial here). This looks like a great homemade chocolate or desert box. Otherwise it would be great to store crystals, beads, pins and any other small items that need to be sorted.
The small square inner box is a reversed custom size masu box, the outer box and lid in a masu box of a custom size. The other day I saw that I had sketched the idea for this divider box compilation on the back of a pad of paper at some point.
Use thick paper or thin card for best results. The colourful box in the photos is made from thin 60 gsm paper and although looks nice, it is far too flimsy and would only be good to hold very light objects. The other box is made from thick 120 gsm paper and thick kraft paper for the outer box and is much sturdier. Perhaps even thicker paper such as 180 gsm would work well, especially if you use larger paper.
For this divider box tutorial I chose to record the sounds of folding as it was a quiet day. If you miss the music, you can always listen to the music I collect on Soundcloud, most of which ends up in my videos.
Origami Diamond Divider Box
Design: Paper Kawaii Copyright Information
Level: ★★★☆☆
You will need:
Paper used:
4 sheets of square paper 15 x 15 cm
1 square sheet of square paper 12.5 x 12.5 cm (trimmed down from the 15 x 15cm)
2 sheets of 21 x 21 cm paper (trimmed from A4 paper)
Final model size: 11.5 x 11.5 x 2.7 cm.
Using other sizes:
To get the correct size sheets, take the size you want to use for the outer box.
For example, 30 x 30 cm (for the outer box and lid).
Divide 30 by 1.4 = 21 (use 21 for the gem shaped boxes).
Then take 21 and divide by 1.2 = 17.5 (use for the small inner box).
If you enjoyed this tutorial, please leave a comment below. I have more origami dividers, click here to view them all.
Related Origami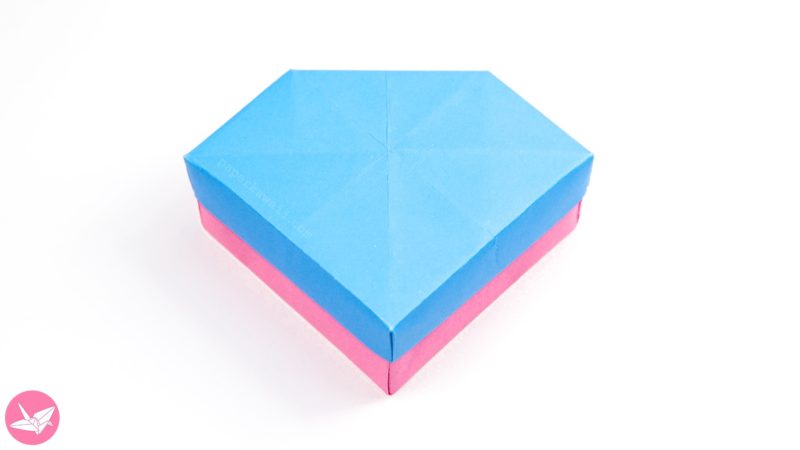 Origami Gem Box & Lid Tutorial (Revised)
Learn how to make a pretty origami gem box and lid. This intermediate diamond shaped origami box is perfect for giving jewellery gifts!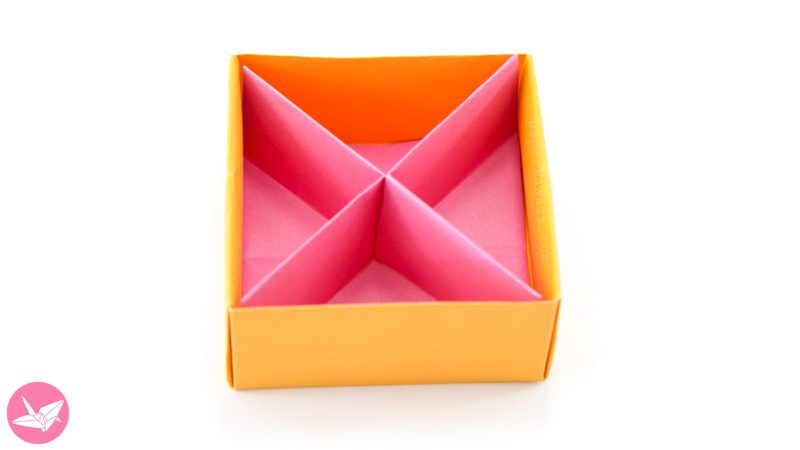 Origami Diagonal Box Divider Tutorial
This useful origami box divider is diagonal like an X, instead of squares you get triangular sections. Great to keep jewellery gifts (& more) separated.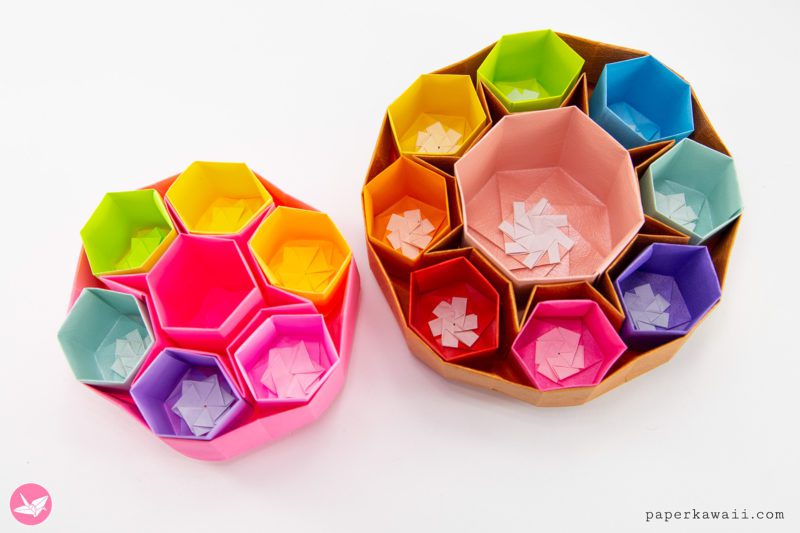 Origami Honeycomb Box Tutorial
Learn how to make an origami honeycomb box. This 7 to 9 section, round origami organiser box is great to display items such as jewellery, stationery or makeup.