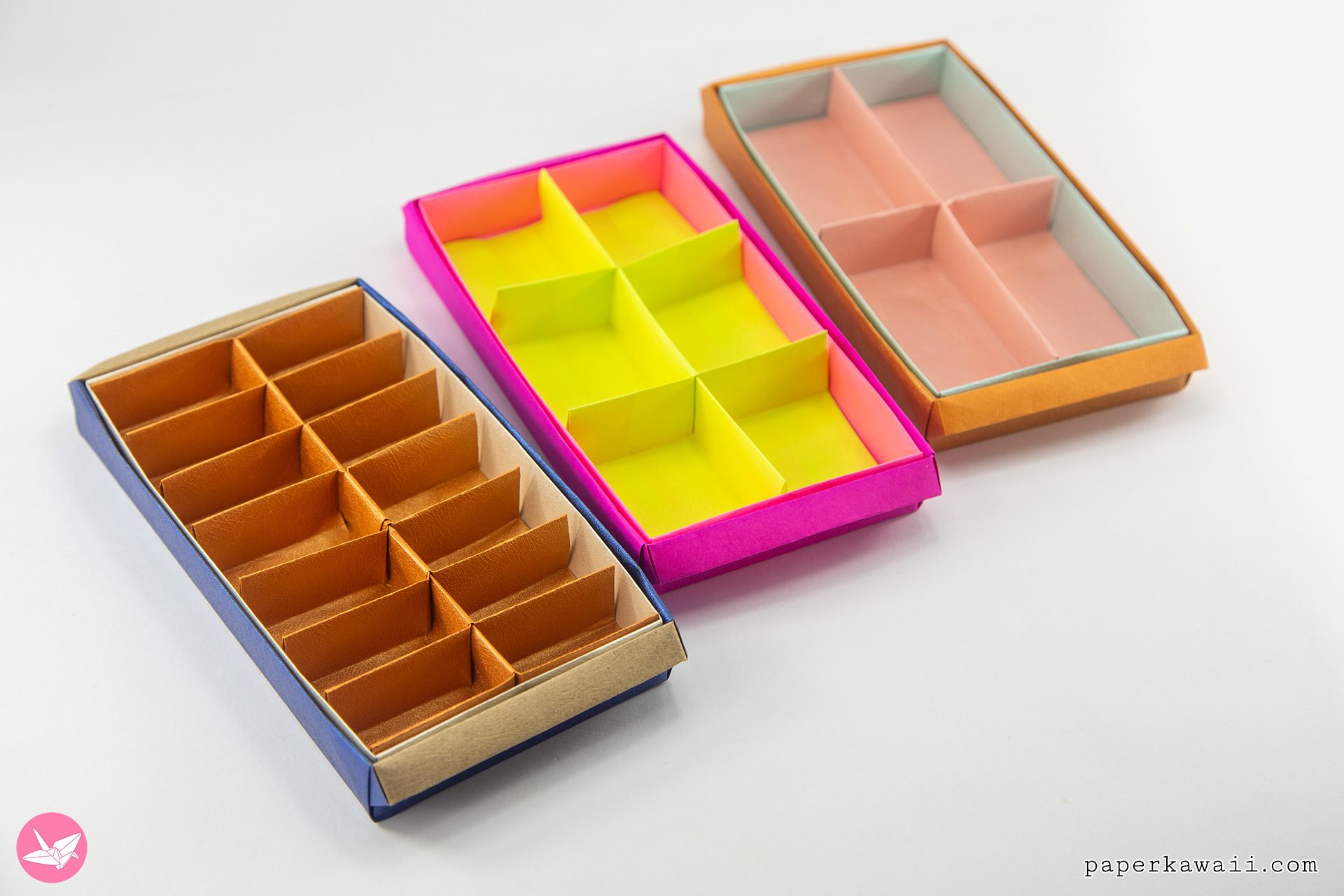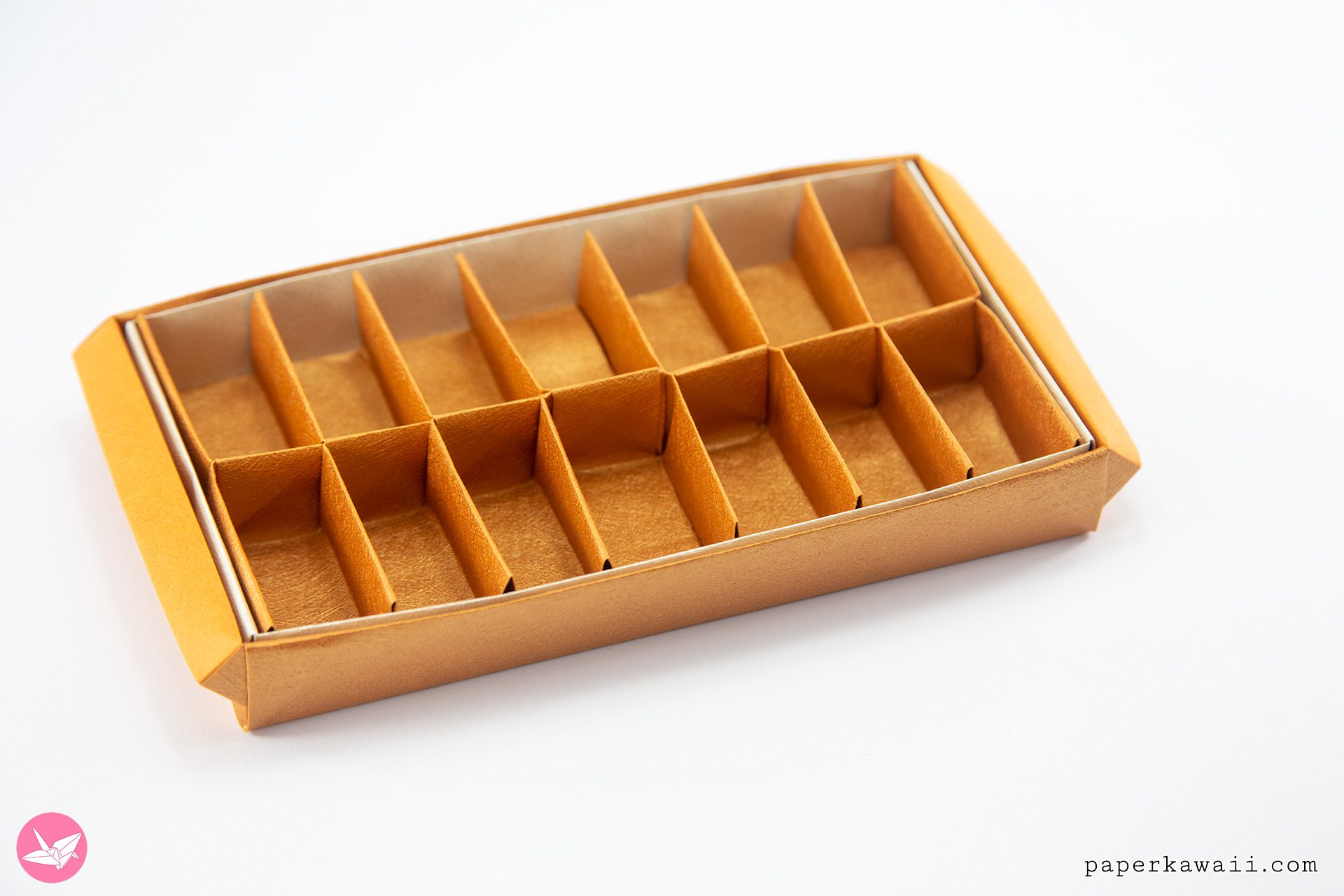 Learn how to fold 3 types of the rectangular origami box divider. Make a divider with 4, 6 or 14 sections. No glue required. This divider is designed to fit inside the Long Origami Tray that I previously posted. Click here to make that first.
These rectangular origami box dividers can fit any size box – as long as it was folded in the same manner. Either way, once you get the hang of these, you can imagine it wouldn't be too hard to make one that is a custom size. I did glue the 14 section one inside the box in the end, because it kept springing up… maybe I'll create one with a lid.
This divider ended up turning into the Origami Honeycomb Box, which is a rounded origami box containing 6 to 8 inner hexagonal boxes and 1 octagonal box in the middle. Check that out if you're up for a challenge! (you can see it in the little image below).
Rectangular Origami Box Divider
This model is featured in one of my origami ebooks: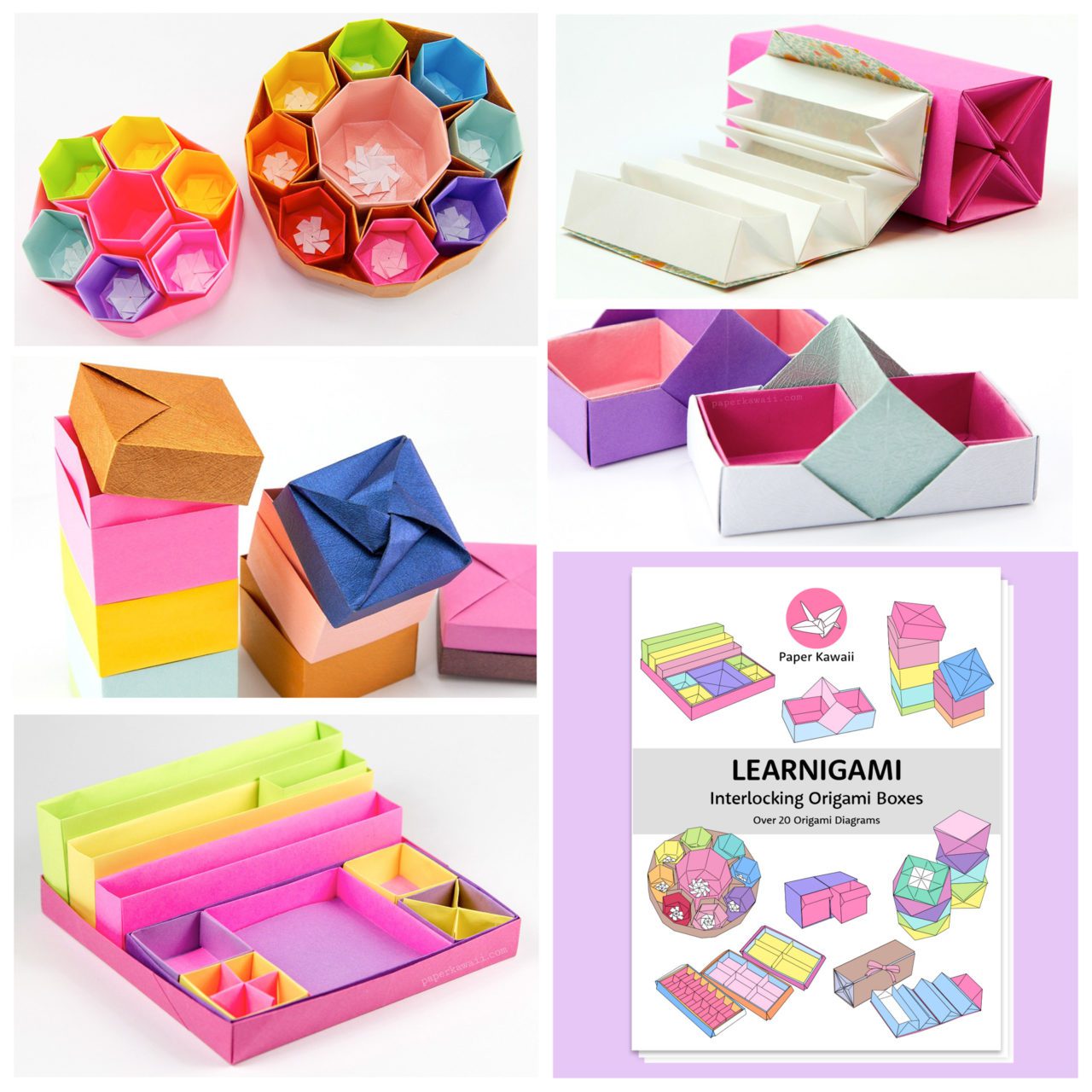 LEARNIGAMI – Interlocking Origami Boxes E-book
Features over 20 origami diagrams. These origami boxes interlock, slot or fit together to become a larger piece. Each origami project is clearly diagrammed with annotations throughout.
Design: © Paper Kawaii Copyright Information
Level: ★★★☆☆
You will need:
1 to 2 sheets of A4 paper
If using the tray:
(4 section and 6 section use same size paper as INNER box)
(14 section use same size paper as OUTER box)
Final model size: 19 x 10 .5 x 2.5 cm
Paper used: 21 x 29.7 cm
Note: If you want to make one for a specific box, all you'd need to do is take note of the width, length and height of the box, and with those numbers in mind, depending on which divider you want to make, for example for the 4 section one:
The arrangement of the sections is: \____/\____/ & \__/\__/ so you'd take the height 4 times, plus the width/length.
6 sections arrangement: ___/\___/\___ & \__/\__/
14 sections: (oh jeez)…… /\_/\_/\_/\_ & \__/\__/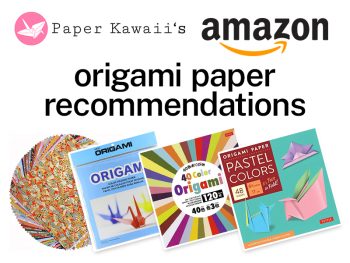 You can check out my personal favourite origami papers, paper craft tools and more on my Amazon.com store.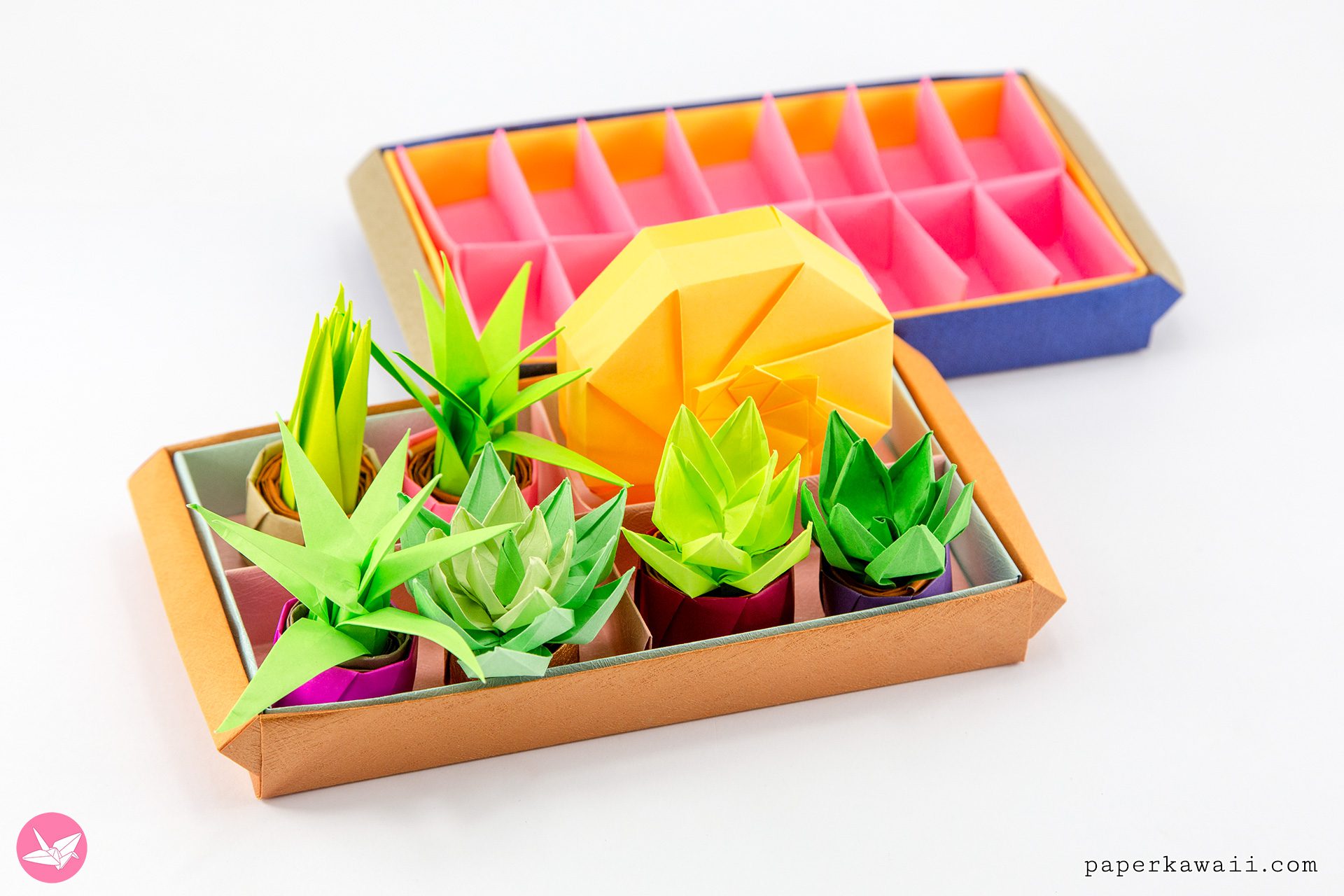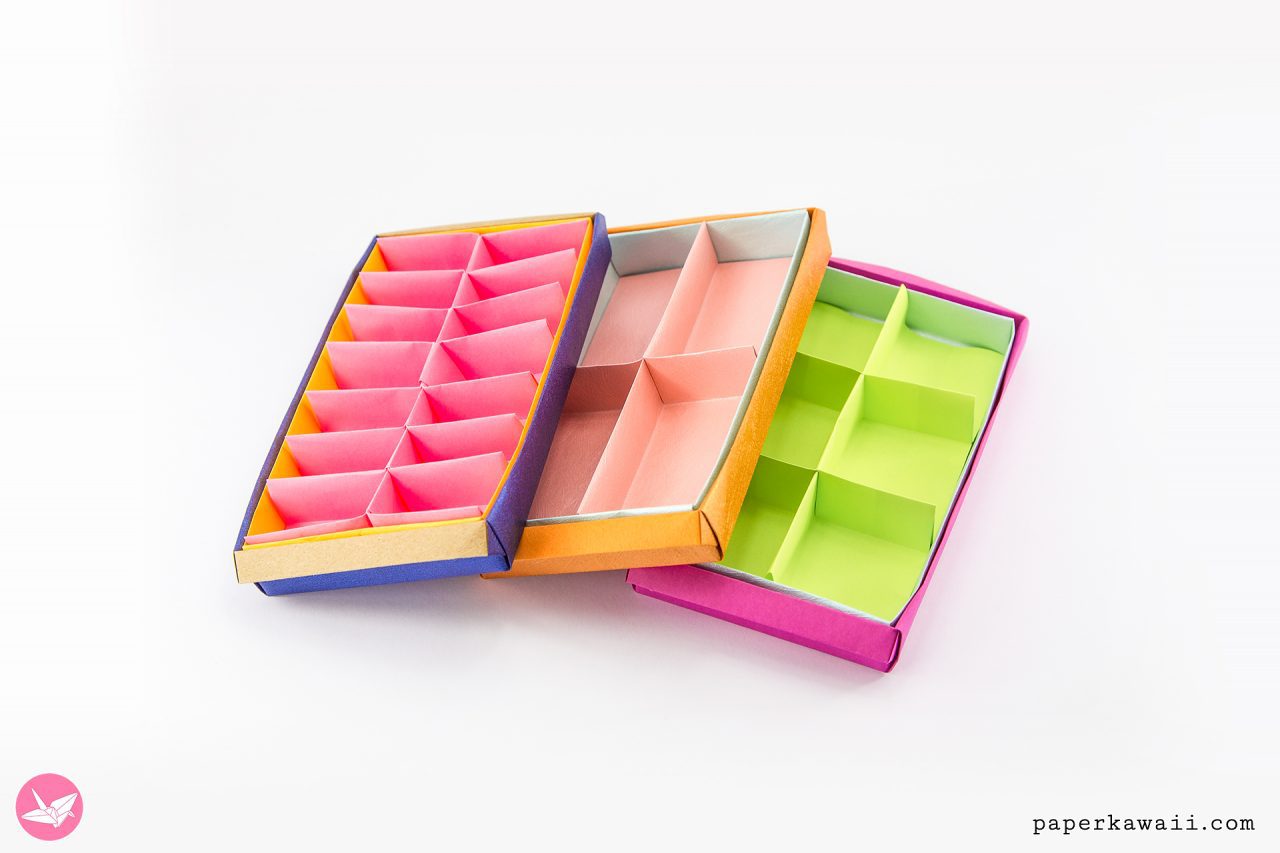 If I get enough people ask, I will make more instructions for different kinds, or different dimensions, check out some of the previous dividers too, the one you want might already exist.
More Origami Dividers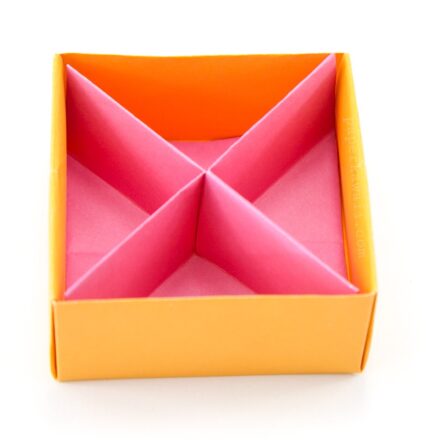 This useful origami box divider is diagonal like an X, instead of squares you get…